Iceland Driving Adventure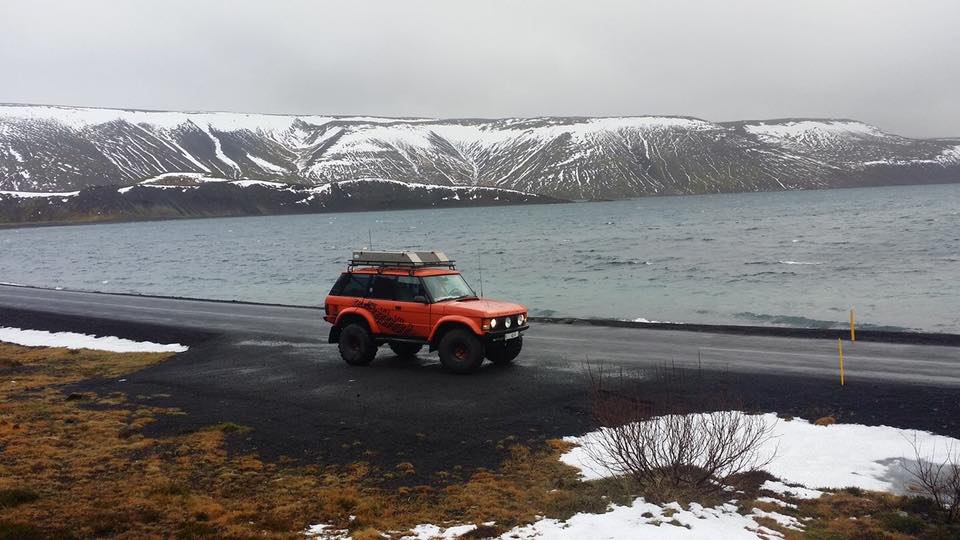 In September 2022 we will return to Iceland to see the rest of this magical Island, dates to be confirmed.
This will be the second time the Adventure Club has been to the 'Land of fire and ice', where glaciers, hot springs, geysers, active volcanos, snow-capped mountains, and vast lava deserts are all on one island. The Adventure lasts 16 days, and we intend to spend as much of this, as possible, in the wilderness. Visiting –Kverkfjoll, Askja, Holuhraun, Dyngjufjalladagur to Myvatn, Akureyri (optional whale watching and deep-sea fishing), Kjalvegur to Hveravellir. We will be driving on gravel tracks, over rocky roads and through glacial rivers.
To ensure the trip is the best it can be, we have partnered up with an Icelandic tour guide, with 15 years experience.
Camping
The tour is based around camping each night, the cost is included in your entry fee. Facilities can be basic and showers can be at additional cost to you, but that is part of the adventure. Wild camping is frowned upon in Iceland and illegal in some areas. There will be an opportunity to stay in lodges or guesthouses at some sites, at your cost.
Ground and roof tents are fine for Iceland but should be good quality and able to withstand bad weather and cold. Sleeping bags should be good quality and have a 3 to 4 seasons rating.
Cooking equipment to be able to prepare a hot meal, brew a hot drink.
Vehicles
A well-maintained vehicle should have a good service before the trip, paying special attention to checking suspension and wheel bearings.
Tyres should be AT or MT tread patterns and have at least 75% tread left. Rocks and gravel can be hard on tyres. At least one spare wheel and tyre, an additional tyre if it is an odd size, Discovery 4 or Range Rovers.
As we want to stay in the wilderness as much as possible fuel could be an issue. Please bring two 20Lt fuel cans, check the seals and carry some spares.
A raised air intake is highly recommended, make sure it is watertight.
Steering/underbody protection.
Spares
Wheel bearings, with seals, gaskets and grease
UJ's for both prop shafts, with new nuts and bolts
If you can get sale or return deals with you garage
Alternator (if possible)
Water pump with gasket & relevant hoses
Drive belts and hoses
Filters for air, oil, fuel
Oils and fluids
Various sealant and repair glues, hose bandages etc.
Various nuts and bolts, fuses, etc.
Equipment
D or Bow shackles, 3-4 at least and 4 ½ tonnes tested ….Gloves
Kinetic or a good long recovery rope, at least 5- 10 metres long (Kinetic optional)
A tree strop to act as a bridle for certain vehicles
Front (if possible) and rear recovery points
Tyre deflation and inflation system, tyre pressure gauge
Small basic tool kit
Fire extinguisher
Straps and tie-downs to secure kit
Torches
First aid kit
Fluorescent jackets for each person in the vehicle, accessible from within the car and 2 warning triangles, spare bulbs and headlamp deflectors, (a legal requirement in Europe)
Insurance
You must have vehicle insurance or green card for Iceland
Recovery for Europe, you may not be able to get cover for Iceland.
Personal holiday/health, covering off-road driving (We use Insure and Go)
Documentation
Along with your passports, you should have the original V5 or logbook, MOT and insurance certificate. (copies of all, just in case)
CB Radio
We consider this an essential piece of kit. It allows you to be in contact with the group leader in case any issues arise. It also allows the group leader to keep you informed of issues ahead, and to pass on information about where you are and what you are seeing.
Money
The local currency is the Icelandic Krona. As of August 2017, the exchange rate is 127.65 Krona for £1.00
You can get Krona from the bank in the UK or in Iceland. There are credit card machines but do let your card provider know that you will be using the card abroad.
Clothing
Be prepared! The weather in Iceland can change very quickly and can become very cold. Work on the layers theory, bring plenty of layers that can be quickly added or removed.
Solid footwear, boots, and maybe wellies.
Weatherproof and waterproof outer garments with good gloves.
Swimsuits for the natural hot springs.
We can expect day time temperatures of about 12 Deg C, but this may drop to zero or below at night.
Options
We plan to drive to Denmark to catch the ferry, we estimate this will take 2 days (from Calais). Google estimates Calais to Hirtshals is 12 – 13 hours driving.
The ferry from Hirtshals to Seyoisfjorour is 2300 Euros return for a vehicle, two people with an inside cabin, 2520 Euros for an outside cabin, with a single occupancy reduction of 300 Euros.
For anyone who is short of time there is an option to container the vehicle from Hull to Reykjavik, then fly in to collect the vehicle and drive to meet us off the ferry, and the reverse on the way home. Eimskip quoted £2655.05 return for a Charles's Defender 110, fully loaded. They will only quote on a vehicle by vehicle basis.
There is also an option to 'Fly-Drive' Hire a 4 x 4, either Defender 110 or new for 2018 a Nissan Navara on 35" tyres, fully kitted out for the trip at approx £350.00 a day, plus fuel.
Protrax group leader and a local guide will be available 24/7 for support and to ensure the smooth running of this great Overland Adventure. Technical support, in the event of a breakdown we will endeavour to achieve a repair, otherwise, we will get assistance to get you going or get you recovered to a garage.
Not included are
Any accommodation other than camping.
Food and fuel
Breakdown costs.
Register your Interest

9th Sep 2023 - 30th September 2023 – Iceland
9th September to 30th September (Dates are from Hirtshals, Denmark and return)
Entry fee: £2700.00 based on one vehicle with two people. £350.00 single traveller discount, additional adults will be an extra £500.00 and children 3 to 15 years old £350.00 each.
Book This Event