Portugal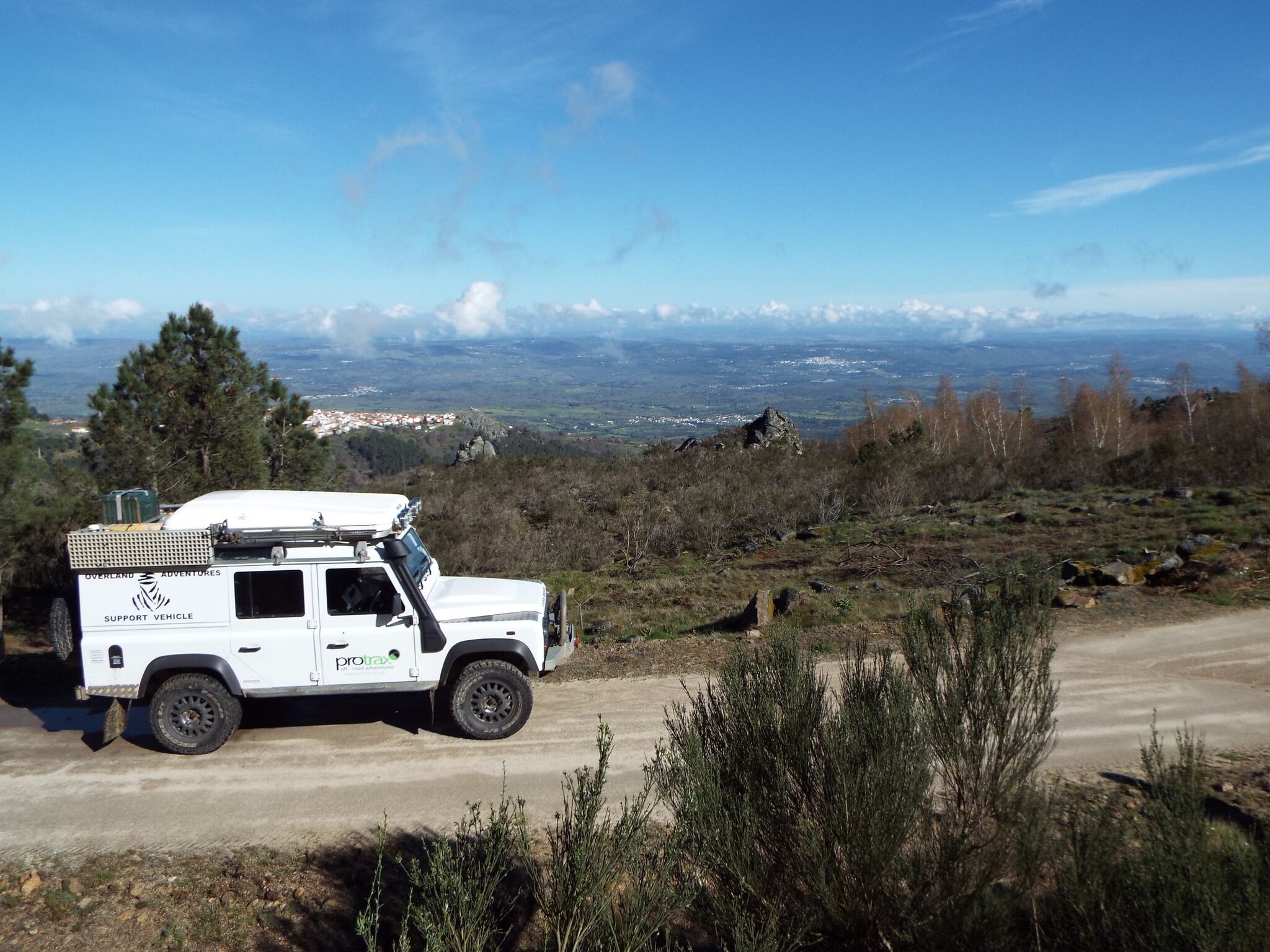 FULLY BOOKED FOR 2019
On the Iberian peninsula, at the south western tip of Europe, Portugal is set between Spain and the Atlantic. With its own, very distinctive language, rich cultural history and beautiful country side, it is becoming a 'must visit' destination, especially for the off road adventurer. You can travel through green mountains in the North, covered with vines and trees, to a near-desert landscape in the Alentejo region, driving over and alongside the great rivers Tejo and Duro, and an Algarve you would not recognise from the brochures.
Our Route
We will start our adventure in the south east corner at Vila Nova de Cacela, the meeting point. We will then travel west through the Algarve until we reach the coast, with its long sandy beaches and rolling waves, it is a mecca for surfers. Steep cliffs, etched away by the sea, provide a home for many birds, including storks and eagles, and offer stunning coastal views. We will follow the coast to the North until we reach Lisbon, where we will stay two nights, so that we can venture into this beautiful city. There is so much to see and experience, buses and trams will carry you around to make the most of your time. You may even get the chance to sample the famous Portuguese Custard Tarts, and maybe the local Port. (No driving today).
Leaving Lisbon, feeling refreshed, we head north east, through the Alentejo region, towards Montagril. Continuing north east we see many cork oaks and olive trees as we drive through the forests on windy tracks, and make our way to our overnight stop at Castelo de Vide. Now, more or less parallel to the Portugal, Spanish border we will pass Rodao and the Gorge of the river Tagus, where we may see Vultures gliding above us. Continuing towards Monsanto we arrive at our campsite at Idanha-a-Nova.
Now, very much in the mountains we start to head east again passing Monsanto and Castelo Novo, as we make our way towards Serra da Estrela. This is the highest mountain range in Continental Portugal, reaching to over 6500ft. This region is also famous for its cheeses, produced from the milk of Bordaleira sheep that graze the mountains and valleys.
Now we head north west again and make our way to the Faia Brava Reserve. This is a private nature reserve where we stay the night. We will have the chance to walk to the edge of the gorge that the river Coa runs, many feet below. Here we should see many birds soaring on the thermals, vultures and eagles, so bring your binoculars.
Continuing to drive close to the Spanish border we make our way to Mogadouro via Freixo de Espanda a Cinta, a border town located near the Douro River, which at this point defines the border with Spain. The area, with its rolling hills covered with vines, produces a distinctive regional wine.
Leaving Mogadouro we start heading north west until we reach Macedo de Cavoleiros and then north to Braganca for our last night. We will pass by/through Azibo Nature Reserve with its large lake, a Protected Landscape, one of 30 in Portugal.
We now depart this beautiful country and make our way home, either on the ferry from Santander or by road on a route of your choice.
Drivers
Our overland tours are all suitable for all levels of off road driving experience, from the absolute novice to the regular green lane driver. Your experienced guide will ensure you have a safe and enjoyable adventure.
Camping
The trip is based around camping each night. We have gone to great lengths to choose camp sites that provide good facilities and a nice atmosphere. The choice of camping equipment is entirely yours. Do have a water proof tent though and a good sleeping bag with some form of insulation under it, as the nights can be chilly. You need to be able to cook an evening meal, although some sites do have a restaurant. We will try to get fresh bread each morning, so you will need something to go with it for your lunch, normally taken beside the track enjoying the views.
Insurance
Recovery, we strongly advise that you have recovery insurance for Europe. In the event of a breakdown we will endeavour to achieve a repair, but if unable, you will need to get recovered to a garage or back to the UK. Medical insurance for the trip, covering off road driving, bearing in mind that you will be off road in some remote places and in the event of serious injury extraction and repatriation could be difficult, and costly. Holiday cancellation insurance, should you need to cancel at the last minute.
Entry Fee
Your entry fee includes all planning for the trip, a support vehicle and guide, group leader who will be available for help and information before the trip and 24/7 during the trip, all camping fees in Portugal.
Extra costs are getting to Vila Nova de Cacela, the starting point, and back from Braganca, the end of the Adventure, fuel and food and any other personal spending.